Oxygen plays a vital role in the respiration of human beings. Without oxygen, no human life is possible on the planet. Human beings and many other creatures on the earth breathe in oxygen to stay alive. Oxygen is naturally produced by plants during photosynthesis wherein plants take carbon dioxide and release oxygen into the atmosphere.
Oxygen is also used in hospitals to provide life support to patients and treat various diseases. Apart from this, oxygen is also used largely in the industries for the production of steel, plastics, textile, etc. Oxygen is a crucial component in the life support systems in submarines, aircrafts, space crafts, etc. However, these industrial needs of oxygen cannot be met by oxygen naturally produced by plants. It requires oxygen to be produced artificially on large scale to meet industrial needs.
Industrial Applications of Oxygen
Some of the application of oxygen across various industries include:
Medical & Pharma Industry
Steel Manufacturing
Plastic Manufacturing
Textile Manufacturing
Metal Fabrication
Glass Manufacturing
Paper & Pulp Manufacturing
Power Generation Using Coal
Chemical Processing
An Opportunity in the Crisis
With the shortage of oxygen in the hospitals due to the second wave of covid-19 in India, the government has temporarily stopped the supply of oxygen for industries. This has led to a huge surge in the demand for oxygen in the country. With both hospitals and industries facing a shortage of oxygen, the industrial production of oxygen has come to a central stage across the country. The government is advising oxygen manufacturers to scale up the production in order to meet the growing demand and ensure sufficient reserves. This crisis is also a great opportunity for new entrepreneurs to start the oxygen manufacturing plant, considering the current situation in the country.
In this context, let us have look at how to start an industrial/medical oxygen plant. Oxygen is generally produced in various ways in industries. However, two methods are widely used to produce oxygen with 99.7% purity which is suitable for all kinds of industrial requirements.
Here are the two methods used for the industrial generation of oxygen:
PSA (Pressure Swing Adsorption) Method
PSA method of oxygen generation involves the separation of nitrogen and other gases from the mixture of gases under high pressure to get pure oxygen. This method requires a set of machinery with two different vessels to separate the gases. It is one of the most preferred methods of industrial oxygen production used across the world. This method is primarily used by small scale industries.
Fractional Distillation Method
It is another most popular of generating oxygen in industries. When compared to the PSA method, it is more efficient and provides high purity oxygen. In this method, first dust is removed from the air. After removing the dust, the air is compressed and then purified by separating gases like carbon dioxide, moisture. Then the air is liquefied by passing through heat exchangers to separate oxygen and nitrogen. Finally, oxygen is collected and purified for commercial grade purity through the process of distillation. This method is primarily used by large scale industries to produce oxygen in large quantities with top quality.
Oxygen Plant Setup Cost in India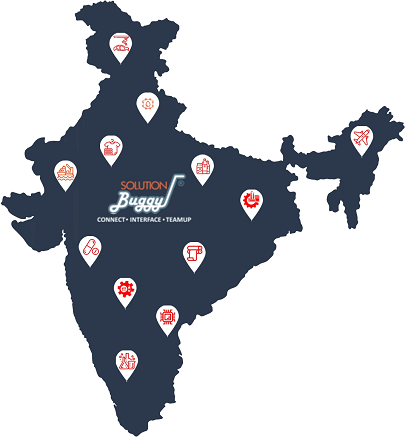 The investment required to set up an oxygen manufacturing plant in India varies from 5 – 50 Crore depending on the size of the plant, location of the plant, type of the plant, etc.
Entrepreneurs can choose any of these methods as per their requirements and preferences. The two methods require two different kinds of machinery for the generation of oxygen. It is advisable for new entrepreneurs to consult experts with technical know-how before selecting the machinery for it involves a lot of customization to achieve desired results. Experts come in handy at various levels of oxygen plant setup right from machinery selection, installation, process optimization, approvals, business development, etc.
Are you are planning to setup a medical or industrial oxygen plant and wondering what is medical oxygen plant setup cost in India? Are you looking for experts who can guide you in setting up the oxygen manufacturing plant? If yes, then kindly register with SolutionBuggy and get access to trusted and verified experts who can assist in setting up the oxygen manufacturing plant right from the business plan, project cost, machinery selection and installation to process improvement, certifications approvals and business development.
Register Now
Credit: https://www.solutionbuggy.com/blog/how-to-start-oxygen-manufacturing-plant/