On Monday, Hyundai Motor Group announced it has officially acquired Boston Dynamics, valuing the innovative robotics company at $1.1 billion. The completed deal gives the South Korean automotive giant controlling interest in Boston Dynamics, bringing it one step closer to its goal of advancing the world of robotics and mobility.
A longtime leader in this space, Boston Dynamics has developed several agile, mobile robots since it spun out of MIT back in 1992. The company is perhaps best known for Spot, a quadrupedal robo-dog that can open doors, walk up stairs and even dance. Spot hit the commercial market last year, joining the hundreds of other robots Boston Dynamics offers across the construction, manufacturing and mining industries. The company also recently unveiled Stretch, its first commercial robot meant specifically for warehouse facilities and distribution centers.
Find Top Jobs In BostonSee Tech Companies Hiring Now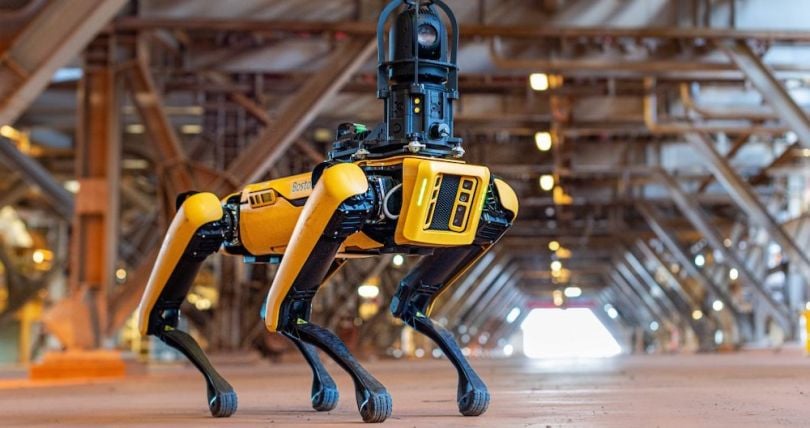 Boston Dynamics was purchased by Google in 2013, then Japanese investment firm SoftBank in 2017, which bought it from Google for $100 million before injecting $37 million more in 2019. Now, Hyundai holds an 80 percent stake in the company and SoftBank retains the remaining 20 percent.
Over the past several months, Hyundai has grown increasingly active in the world of robotics, unveiling a new "walking car" that can navigate tough terrain on its legs or be carried by drone. The company also says it has "invested substantially" in the development of tech like autonomous cars, artificial intelligence, urban air mobility and smart factories. This acquisition of Boston Dynamics is a "major step" toward its ultimate goal of becoming a "smart mobility solution provider."
"The synergies created by our union offer exciting new pathways for our companies to realize our goal — providing free and safe movement and [a] higher plane of life experiences for humanity," Euisun Chung, the chairman of Hyundai, said in a statement when the deal was first announced last December. "We will also contribute to the society by enhancing its safety, security, public health amid global trends of aging society and digital transformation."https://www.youtube.com/embed/O2_NEy0iDck?autoplay=0&start=0&rel=0
This deal is also expected to allow Hyundai and Boston Dynamics to better leverage each other's respective strengths in areas like manufacturing, logistics, construction and automation. Plus, Hyundai says it will support Boston Dynamics to expand its product line, as well as grow its global sales and service footprint. Together, the companies aim to create a sort of "robotics value chain" that handles everything from manufacturing to commercialization.
In the meantime, Boston Dynamics is hiring, with dozens of open tech positions available at its Waltham headquarters and office in Mountain View, California.